Are You Living in a Big House All Alone?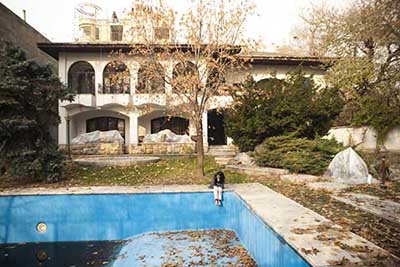 Living in a big house where your kids grew up? Learning how big an 'Empty Nest' can be? Or, are you living in a big house because you were unexpectedly widowed or divorced and now find yourself alone in the big, expensive marital home?
Find yourself living in a big house with too many bedrooms, WAY too much house to keep clean and out of control maintenance, repair and property tax expenses? Some people find themselves living in a big house that they inherited. No matter how you got there, are you struggling to decide WHAT TO DO?
Problems of Living in a Big House Alone:
My House is too BIG for ME.
My House has too many bedrooms & bathrooms to clean.
My House is too expensive for me. I have "me money" left over.
My House has a pool I don't use and I can't afford the monthly cleaning.
My House needs a new roof, paint, driveway repairs, and a new kitchen.
My House has huge yards. Grass cutting and landscaping fees are too expensive.
---
Readers Share Living in a Big House Issues:
If you are living in a big house as a newly single person, or maybe you are parents –a couple– experiencing the 'Empty Nest' syndrome, PLEASE share your 'Living in a Big House Story' with us. Send a picture of your house if you can. Or grab a screenshot of your house using Google Maps "Street View". Share with us what all the fears, doubts, and indecisions you are experiencing. For example: What are your biggest dilemmas to STAYING in your home? What are the road blocks (real or imagined) in your considerations of SELLING the house and moving elsewhere? My questions sound simple, but we ALL KNOW the answers are anything but simple!

I'm a widow living in a money pit. At 53, I am relatively young, still employed and want to live a meaningful, vibrant live. Unfortunately, the expenses of my house keep me from living a life where I can have friends, go out a few times per month, let alone take a 3-5 day vacation a couple times a year! My house is much too big for one person. Isn't it?

Besides feeling lonely in this big space, my home and landscape maintenance is difficult for me to care for by myself and too expensive to hire out. I am completely undecided if I want to stay here or sell. If I sell, where can I go that is as nice? The property taxes alone are $8,000/year! How can I stay and have any money left at the end of the year? I like my home and don't want to sell but what can I do?
Most people who find themselves living in a big house, are often FROZEN IN INDECISION because they love their house, they don't have a clue where to move to, or maybe there is so much STUFF and CLUTTER to deal with that selling is a huge undertaking. When weighing the option of downsizing from a big house to a smaller house, a townhouse, a condo, or an apartment, MANY homeowners are faced with a monumentally-lengthy TO-DO-LIST that must be addressed before selling. For example. Should I sell the house "as is," or should I fix the roof, the driveway, and upgrade an old kitchen or bathroom? If I spruce up the house, where do I get the money? If I can manage to fix up the house, will I get my investment money back AND will I make a profit on the sale of the house for my efforts?
Most ask us: "Can Anyone Help Me Brainstorm all These Options?"
I am 58. My common-law husband had a great job and we've enjoyed our LA home for 23-years. After I discovered he'd strayed, he agreed to move out and quit-claimed his interest to me. While the house is now all mine, the 4-bedroom house is just too big and expensive for me. I barely get by. The front yard is drought-tolerant, low-water, low-maintenance, but the rear yard is a jungle and requires a landscape service to keep in check.

I am STUCK in indecision as WHAT TO DO? Stay or sell? I love the house. The asphalt driveway needs replacing, the rock roof needs replaced. When thinking of selling, I worry about the cost of repairs needed. I also fret about moving elsewhere. Where is "elsewhere"? My sole-owner cash flow is not as good as was it was before as a couple. I need help figuring out sensible options.
---
Living in a Big House – Stay or Sell?
I am a Lifestyle / Real Estate BRAINSTORMING counselor. I'm Mr. Bennett. Brainstorming your LIFESTYLE OPTIONS and REAL ESTATE OPTIONS (given your current real estate circumstance) is where I shine. I've more than 30-years exploring options most people NEVER consider. I'm not selling any services or products. I'm not a Realtor, though I once was. I'm not a contractor, though I was for almost 40-years. If I can make time on my calendar, and you're house is located within the outermost circle on the MAP BELOW, and we have one of two available appointments this month, we can brainstorm YOUR many options – options you've likely never even considered!
Our exploration of your options will be as simple as having a cup of coffee with a good friend. Coffee or not, we can get together at your home (usually a part of your current dilemma) or the closest coffee joint to your home, my home, or my office.
"What are you selling?" Nothing. Really.
If we can find a practical option that works for you, a solution to so you can STAY in the house you like, that right now is too big or too costly, YOU WIN.
Or, if we can plot a practical course where you are able to find a way to make the repairs and upgrades necessary to sell your house and brainstorm a place to move that excites you – YOU also WIN.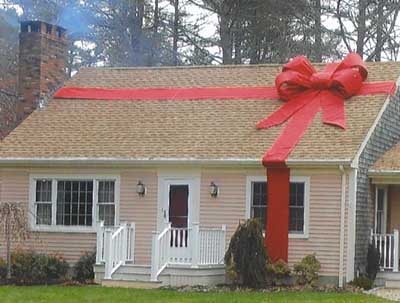 If you win, and I've helped you find a smart and practical solution to where a Living Trust or estate plan (typically the cost of a new mattress and box springs) would months or years from now tie a 'pretty red bow' of security on your home and life, would you then consider attorney Donahue to put that estate plan together for you? We know it might be years later. But if we helped you in the past without ANY expectations, maybe we've earned your respect and consideration. That's why we offer my brainstorming services. We hope to be serving local SoCAL residents for decades to come…
SCHEDULE MY VISIT: IF you schedule 1 of the 2 no-cost brainstorming sessions offered each month to explore your real estate options, you can decide if we have new, practical choices that might solve your too-big or too-expensive house situation. The law firm covers the expense of my time for two visits per month up to $500 per visit. Though only an hour or so of your time is necessary, my visit often take a whole day of my time, thus the limit of 2 no-cost homeowners visits each month.
If you're curious as to WHY only 2 visits per month, on average, each visit I embark on requires three hours of driving time, one to two hours visiting you, and if you like one or more of the options I share with you, then I spend, on average, another 3-4 hours pulling together and emailing you pictures, notes, and relevant info from the archives of our friends and clients who have already solved THEIR too-big house problem.
See where your house is located on the MAP at bottom of this page. If you are in my service area, take advantage of one of the two no-cost monthly appointments. Absolutely NO obligation for anything whatsoever.
My goal is to share three decades of options that our clients and friends have found successful that you've probably never considered. Options that might make sense to you in your current dilemma to where you can get your LIFE IN ORDER, your REAL ESTATE IN ORDER, and your financial hemorrhaging stopped to where you have money again. IF we can get your schedule and mine to dovetail to where we can have a brainstorming session, there is NO cost: NO obligation. There are NO expectations of you by me or the law firm founder who makes this possible.
---
NOTE: I work for Living Trust Attorney Donahue, 3 renowned Real Estate Lawyers and an amazing Tax Law attorney. My days are very busy. My calendar is full most weeks. THAT SAID, I love brainstorming real estate options with people seeking solutions and I'll make any every effort to meet with 2 homeowners each month. All you need to do is call and schedule my visit. IF your home is within the boundaries of my maximum travel distance on the MAP (below), AND you are in a the big-house, expensive-house dilemma described in this article, we can attempt to figure out WHAT good, practical options makes sense for you that might "FIX" your situation.
FIND YOUR HOME ON THIS MAP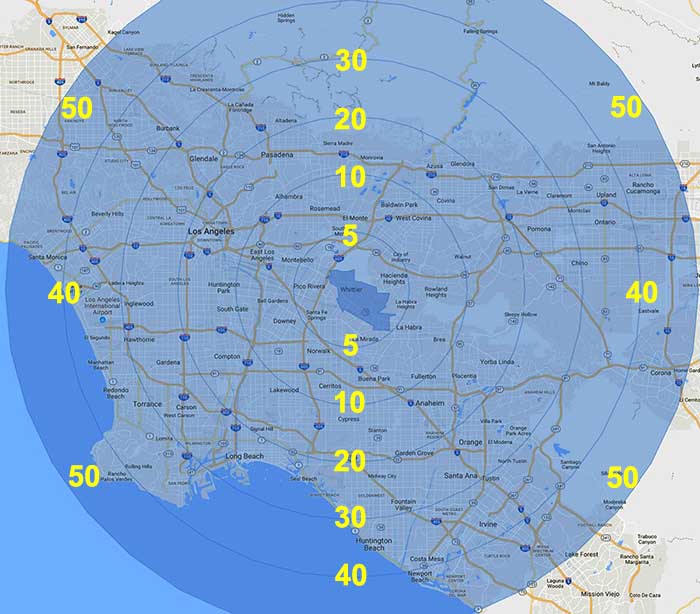 SCHEDULING: 7 AM to 12 noon are best for me. Me? I live in the Los Angeles County above Whittier. Each month I travel to meet two homeowners who live in a too BIG or too EXPENSIVE house seeking a workable, logical, practical solution.
If you see your circumstances in this article, if you are in a rut, CALL US at (213) 984-1218. Let's make an appointment to brainstorm your unique circumstances. Let's see if we can find a solution that can possibly change your life by doing what other people –just like you– have done to change their quality of life by solving their BIG house issue.
---
NOTE: Please do not call us regarding foreclosures, foreclosure auction, or you are fighting with a lender – – – as sad as that situation is – – – that is NOT something we can help with. If that is your issue, our probate and trust attorneys would strongly suggest you search specifically for an attorney who specializes in foreclosure defense, or search for a bankruptcy attorney who might be able to protect you from a pending foreclosure by filing a fast Chapter 13.
---